Great indoor cycling instructors are always in demand and this course will help you become one of the best!
Unmatched reputation, unrivalled support and unbeatable value are why instructors and employers worldwide choose us
Proven quality and value - Overwhelmingly rated '5 Stars - Excellent' from new and experienced instructors worldwide, since 2001 live and 2009 online - All 100% real and kept for reference.
100% ON-DEMAND online - Start today from home at your own pace and at times to suit you. No waiting for Zoom sessions and no risk of covid exposure, or last minute cancellation due to local lockdown!
A legitimate and trusted certificate - Recognised by insurers and employers alike for quality and value. Accepted worldwide - Taken by instructors in over 43 countries to date.
Expert, personal support and feedback from top presenter & creator Debbie Kneale
Fully accredited - Exceeds industry standards and awards the highest external accreditation available for indoor cycling. Essentials Plus with NASM and AFAA and Pro level via CIMSPA
PRIOR FITNESS QUALIFICATIONS NOT NECESSARILY NEEDED See details here
100% freestyle certification - Use in any venue and on any brand of Spinning type bike, including Reebok, Star Trac, Schwinn, Keiser, Pulse and more
Top choice for re certifying instructors too - Les Mills, Spinning and other instructors wanting to upgrade or update, reduce costs and get a freestyle certificate which also teaches you how to use music, are moving to us now too! We even provide a discount to help!
Exclusive VIP instructor support package on passing - Includes certificate with web authentication, online refreshers, private Facebook group membership, marketing material, promotion, discounts on partner products and more. This extensive support package is free for the first year and just £35 per year after that and can even remain free with instructor rewards. Full details here
Study securely on our own private, bespoke learning portal - No sharing of your details with outside agencies, like the 'online learning' platforms used by other fitness providers do.
Be assured, this is not one of those cheap and nasty courses, claiming to be 'excellent', or 'the best', or 'trusted'. Sadly, you will see these sometimes used by unscrupulous companies, with no substance to back them up.
Whilst some and may even appear legitimate from their websites, the reality is you may find out too late, that your time and hard earned money was wasted on something which simply does not deliver - and even worse, that they are not covered by insurance in the event of a claim, leaving them personally liable!
Choose Performance Cycling and Debbie Kneale and you are guaranteed the 'real deal', with 20 years of 'Excellent' reviews from instructors worldwide to prove it!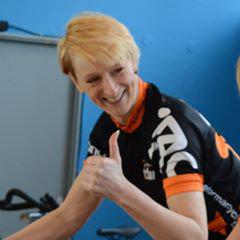 Performance Cycling course creator and teacher - Debbie Kneale is a UK based international presenter and coach, who has earned a reputation for excellence worldwide with her passion, skills and her ability to make learning natural and fun.
Debbie has taught in the UK and overseas and presented at all major UK conventions during her 20+ year mission to help instructors and raise standards in indoor cycling. First with live training and then in 2009 pioneering the worlds first online indoor cycling instructor training.
The unrivalled reputation Performance Cycling courses have is testament to Debbie's continued dedication. Debbie answers all online students questions and gives assessment feedback in person as well as continually developing the training and support to ensure it continues to exceed instructors, employers and insurer requirements.

BUY SECURELY HERE TO START TODAY