We are pleased to announce another winner in what is proving be a very popular award!
Huge congratulations to Gill Williams in Waternish on the Isle Of Skye who is the latest worthy recipient of our Featured Instructor Award.
Gill qualified using our online course option and then set about convincing the Waternish Hall Committee to buy the bikes needed so she could set up classes in the village hall and encourage the community to get fitter and give it a go.
Gill initially offered a series of beginners introduction classes so people had a thorough, safe induction and could see how enjoyable it could be, regardless of fitness level or age, and as a result Gill has now brought indoor cycling to a community that had no way to enjoy the benefits of it previously. In doing so Gill has also brought the whole community together too, with people travelling in all weathers from up to 30 miles away to attend!
Gill's dedication doesn't end there, as well as regular classes every week, she organised a 24hr indoor cycling event to raise money for Help The Heroes and does lots of other charity work too, including getting people fit for her Hands Across The Water (UK) charity bike ride for 2013.
Gill is clearly an instructor leading with passion, skill and style and it is clear from the many nominations we received for her, the genuine warmth and appreciation her clients feel for her and what she has helped them achieve, with better health, fitness and increased confidence.
Gills members all praise her teaching skills and enthusiasm in delivering fun sessions for a wide variety of fitness levels and love that she both motivates and encourages everyone, every time.
Gill is described by one of her regulars as "An inspiration to the community, galvanising people of all ages and ability, creating genuine friendships, giving people confidence where perhaps there was none. Gill gives more than just a lesson, she gives of herself, freely."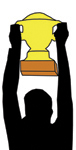 Gill has shown she is totally dedicated to getting and keeping the local community fit and is an obvious inspiration to all her clients. What comes over in all of the nominations for Gill, is just how much she is valued. We can't mention them all, but it is clear to see what an absolute asset she is to her community, people's health and fitness and is another shining example of a great Performance Cycling Instructor.
We are proud to honour Gill with this award. Well done Gill for all you have achieved and huge congratulations on being a winner! Keep up all your good work, and long may it continue!