Jon is one of our Level 2 Instructors who as a result of qualifying has set up his own studio called 'Cycle-Fit' in Tenby, Pembrokeshire and pictured here with his winner Richard.

Jon tells us why Richard is his winner: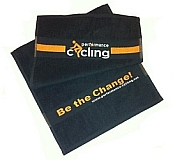 "Richard started with us about five weeks ago and during those weeks has shown a huge improvement. He always pushes himself in the classes and gives it his all. I've watched him progress on all the disciplines over the weeks and he's pretty well mastered all of them now. Also a big improvement on his cadence which I know he struggled with initially. Always enthusiastic and a pleasure to teach."
Congratulations to both Jon and Richard. Wishing you great success with the studio Jon and we know you will keep inspiring Richard and others with awesome Performance Cycling classes!
Share your passion and 'Be the Change!' by becoming an instructor with us
See more Performance Cycling 'Be the Change!' Award winners here