Zoe being presented with her 'Be the Change!' award by Level 2 Performance Cycling Instructor Steven Smith at The Marlow Club.
Steven tells us he chose Zoe as his winner because of how far she has progressed in his classes from an uncomfortable, tense 'newbie' to someone who now attends every week, maintains correct posture throughout class and works hard, however tough the challenge.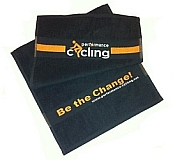 As well as an avid supporter of Performance Cycling, Steven is a tireless fundraiser for MNDA (Motor Neurone Disease Association) and whilst he qualified with us only a year ago, since doing so has gone on to combine his love of techno music with the Performance Cycling coaching standards in a class style he calls 'Rave and Ride' with live DJ's and which he is using to continue successfully raising funds for MNDA - Go Steve!
Congratulations Zoe and Steve - Keep 'Being the Change!' and an inspiration!
Share your passion and 'Be the Change!' by becoming an instructor with us
See more Performance Cycling 'Be the Change!' Award winners here