The indoor cycling industry is as much in need of quality instructors as ever and this course will help you become one of the best!
100% ON-DEMAND, online - Start today from home at your own pace and at times to suit you. No waiting for Zoom sessions and no risk of covid exposure, or last minute cancellation due to local lockdown!
A legitimate certificate - One renowned for '5 Star - Excellent' quality and value and recognised worldwide. Trusted by instructors in over 43 countries to date.
Thorough, up to date content, exceeds industry standards and satisfies employer and insurance needs
PRIOR FITNESS QUALIFICATIONS NOT NECESSARILY NEEDED See details here
Quality freestyle certification - Use in any venue and on any brand of Spinning type bike, including Reebok, Star Trac, Schwinn, Keiser, Pulse and more
Ideal for RPM instructors - Get qualified to teach freestyle and keep earning as clubs and gyms drop Les Mills licences. Contact for discount to help!
Personal support and feedback from top presenter & creator Debbie Kneale
Exclusive VIP instructor support package on passing - Includes certificate with web authentication, online refreshers, private Facebook group membership, marketing material, promotion, discounts on partner products and more. This extensive support package is free for the first year and just £35 per year after that and can even remain free with instructor rewards. Full details here
Our unmatched 100% recommendation rate since launch, live in 2001 and online in 2009 and overwhelming 5 Star - Excellent ratings, means you can be confident you are investing wisely in your future when choosing Performance Cycling for your Indoor Cycling Instructor Certification.
Be assured, this is not one of those cheap and nasty online courses, where you pay your money and get a certificate, regardless of whether you learned anything, or not.
Whilst those can be enticing to some, due to price and slick marketing, sadly, instructors find out too late, that they have wasted their time and hard earned money on 'training' which does not give them the knowledge or confidence to teach and 'certificates' which are very unlikely to satisfy insurers in the event of a claim, leaving the instructor personally liable!
As a result of Debbie's expertise and continued dedication, this training is now widely respected as the top online indoor cycling instructor training available today. It's unmatched reputation for excellence, makes it number one for instructors wanting high quality and best value.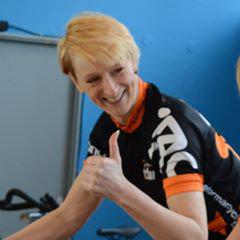 Your course creator and teacher - Debbie Kneale is a UK based international presenter and coach, renowned for her passion and engaging, yet relaxed teaching style.
Debbie has presented at all major UK conventions and spent over 20 years helping to raise standards in indoor cycling, first with live training and then in 2009 pioneering the worlds first online indoor cycling instructor training, so instructors worldwide could access a credible, convenient and enjoyable alternative to her highly acclaimed, live indoor cycling instructor training.
It is as much needed today as ever and her passion and committment remains!
Debbie answers all online students questions in person and continually develops the training and support to ensure it continues to exceed instructors, employers and insurer requirements.

BUY SECURELY HERE TO START TODAY